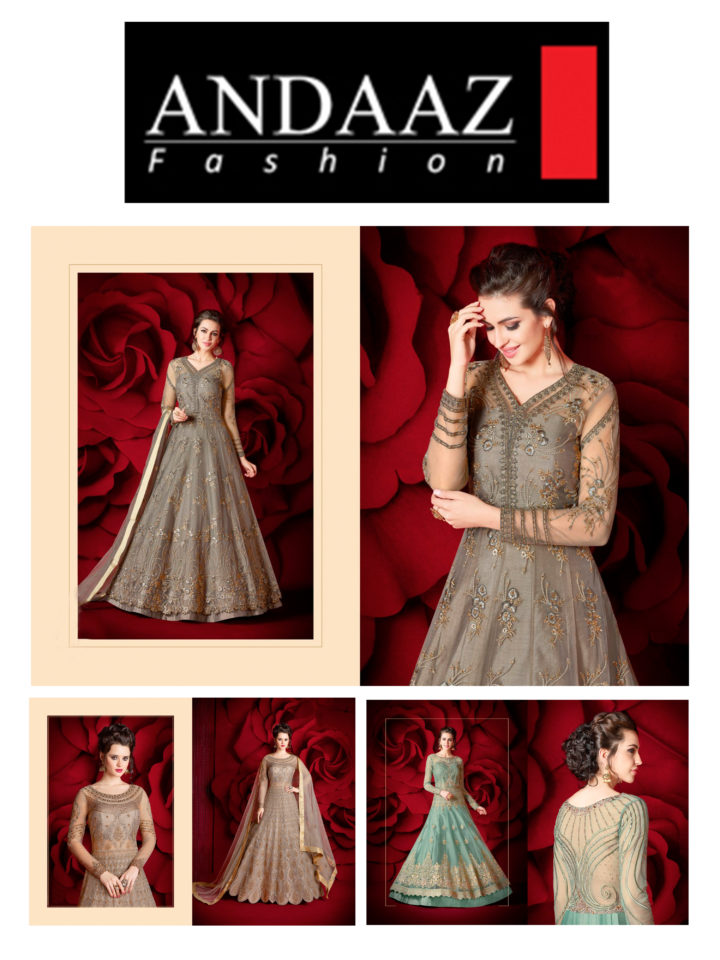 ANARKALI FROCK COLLECTION
Fashion and women are two sides of the same coin. Both are one single unit inseparable from each other. Women love to keep themselves updated about the latest trends in fashion and festivals and parties are the special and perfect occasion to flaunt their fashion skills. Andaaz Fashion welcomes all the fashion-savvy women to brighten up their occasions with Andaaz Fashion's Designer Anarkali Frock Collection. Dazzle in the glamorous designer frocks designed just for you.
We present the latest designs, and unique, elegant, and trendy Anarkali frocks to show your glamour around the town. Get the extravagant look with our latest designs and shine apart from the crowd. We offer you a trendy variety of designer frocks that promises all eyes on you during the occasions. Anarkali Suits are traditional attire like designer frocks that create a vintage look for you. Our designers work tirelessly to craft the latest designs frocks with artistic beauty endorsed in each and every morsel of the apparel. Designer Anarkali frocks are a perfect blend of fabric, designs, cuts, and patterns cocktailed by our designers, especially for you. The designers choose and design with an eye fashion-savvy so that you can achieve the perfect stunning look.
Our Anarkali Collection has frocks that are easy to carry and you look effortlessly gorgeous in these designer frocks. We have frocks made of flaring silhouette with a pinch of elegance, off-shoulder designer frocks, cold shoulder latest design frock that has long sleeves with oval cuts at the shoulder, princess cut with plunging necklines, and puffed up sleeves that add to to your glam look. Netted and silk fabric used for the flairs and layering gives you an ultimate appealing personality. With such a huge variety of designer Anarkali Frocks, you will be spoiled for choices in the designer frock collection at Andaaz Fashion's online store. Andaaz Fashion's designer frock collection presents an extensive collection of the latest design frocks that will surely make your frock different and unique from others in the town. Whatever design or unique piece of frock you have in your mind is available with us at the designer Anarkali's frock collection at Andaaz Fashion online store. Now the frock of your dreams is just a click away from you.
Make yourself a fashion statement on every occasion with our latest designer frocks. Andaaz Fashion is the only one-stop destination to pick the latest design and trendy frock every time you need it.
Categories: anarkali dresses, anarkali frock suits, anarkali suits, frock anarkali, wedding dresses