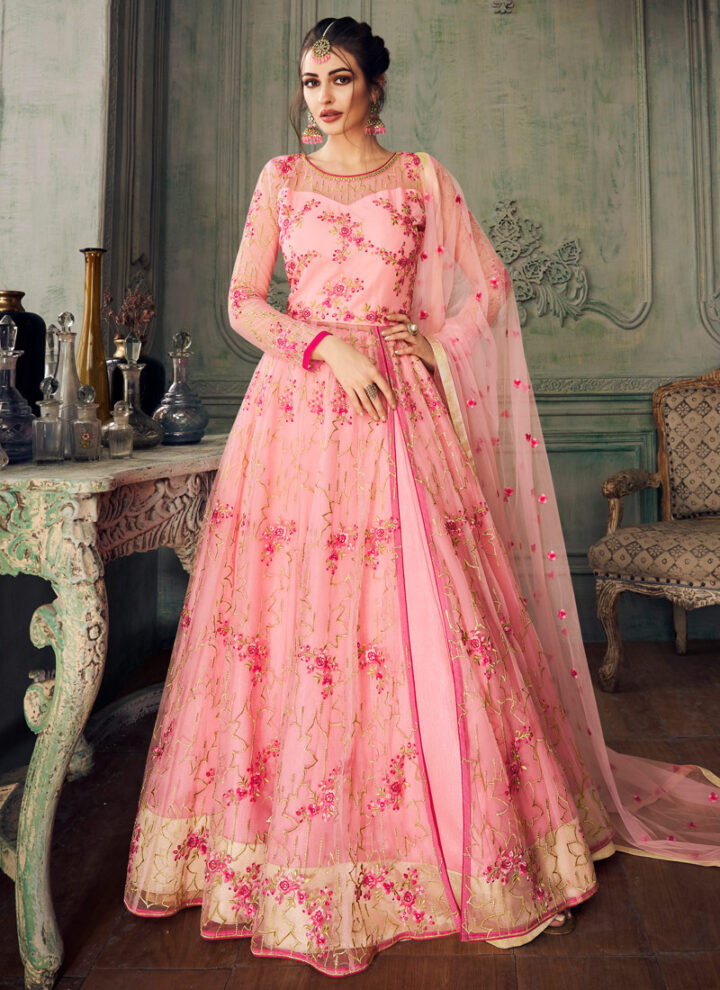 Embroidered Anarkali Collection
The vast Indian market for clothes and outfits and dresses makes it a buffet of choice for women. They have so much variety when it comes to designs and patterns. They have umpteen suits and dresses to buy. There are numerous designs available in printed, embroidered, patched work, and a lot more. The fabrics are so many and so are the color shades. A variety of designs for dresses and suits available online are also so many. One can easily do some online shopping and buy as per choice and liking.  Also, a variety of price bracket is available for these dresses, from the cheapest to the most expensive. There are some designs of suits that keep on coming back and the trend never dies.
One such design is an Anarkali suit. Anarkali is a design of a suit that is a long and flowy dress. One can purchase this in the choice of fabric and price range. Anarkali with the upper part embroidered looks beautiful and amazing. There are so many designs for this suit where one can buy what one likes. The  Anarkali suit embroidered in thread looks fabulous with a printed dupatta. All of these patterns and designs are also available for online shopping where things are just a click away. The fabrics are available in various price ranges where one buys within their budget. Embroidered suits are something that never goes out of trend. The price range of these varies from a whooping budget to a basic one. All of this depends on the finesse and work of it. One can easily buy these designs online. Online shopping has made life so much easier. Even the best of Anarkali designs, the embroidered work is available online.
For a formal look and important occasion silk embroidered Anarkali is a good option. It looks really good and bright in shades of red, yellow, pink, and green. Thus, Anarkali is one suit that one can buy as it looks heavy in itself.  A woman also has the option to purchase this Anarkali suit in cotton. It is very comforting and easy to carry. Thus the variety of easy-going suits in comfortable fabrics is the best option to buy. An embroidered dress also looks beautiful and is a complete attire in itself. Therefore, embroidered attire always adds grace to any form of clothing. In today's world, all this is easily available while shopping online. This is the best form of shopping for what you like. The fashion industry is booming with such amazing options of dresses and suits that one would be tempted to buy all of them.
Related Articles:-
Categories: abaya anarkali, anarkali dresses, anarkali frock suits, anarkali suits, bollywood anarkali, bollywood dresses, diwali dresses, ethnic wear, festival dresses, frock anarkali, indian ethnic wear, islamic anarkali, Pakistani Dresses, pakistani wedding collection, slamic abaya dresses, wedding dresses
Sorry, comments are closed for this item.